When a new client gives Message In a Bottle a new project, most of the time he has to send material so that I can work or get to know all the details of his activity. But often, the material is scattered, the qualities of the documents are mixed, there is no chronology, etc. So, before starting anything, I start by sorting and organizing the material.
And that takes time ⏱️, so it costs 💸. So today, I decided to be nice and save your time and money, dear Business Owner. It's not in my favor, but I'm a rather generous girl💁.
I will explain how to prepare your marketing material before sending it to your favorite freelancer or other providers.
1. Name your files
It is the base. Because X3248 for photos and file 2012 for your PDFs will not help your providers. If there are not many documents, it still goes. But if you send him a good twenty, it becomes painful.
Your provider will certainly have to open all your documents to see what they contain. Whenever he will continue to work for you.
Yes, because you are not his only client. You can not wait for your provider to memorize what your documents contain based on their enigmatic name.
2. Distribute your material in folders
Storage, clarity, organization, call it what you want but it must be your goal. And to reach it, nothing better, especially if you transmit a lot of material, to classify it in various folders; themselves well labeled (yes, as in point 1).
In addition, it will certainly allow you to sort yourself before sending documents that have nothing to do in the hands of your favorite freelancer.
3. Send quality material
I will emphasize this point especially regarding the photos. This is often the most difficult type of document to obtain with a good level of quality.
Of course, sometimes your freelancer may catch up by framing differently or because he masters Photoshop very well. But most of the time, we will use only material that will be, at its base, quality.
So, note these few points:
no visual of the size of a confetti, even for the web, that's not enough
no editing of images in word (yes, yes, it exists)
no visual or blurry videos
no saturated colors to death or filters effects
On the other hand:
send your visuals in different formats if you have them, I think especially logos
send the original photos, even if they are not well framed, do not try to hack a thing before transmitting them
check that your documents are not corrupt, that you can open them.
4. Transmit your material with one tool
I often receive material through different means: dropbox, email, whatsapp, etc. And sometimes, on all channels at the same time.
So obviously, WhatsApp, it's great to quickly send a picture that was missing, especially if you are in a hurry. You must not be rigid. But not if it is 20 different visuals that complete the 38 documents sent by wetransfer.
Once again, your freelance has other customers and will certainly not take care of your equipment right away. As a result, he can miss some resources. That would be a shame. And the final result may suffer. Or your bill.
Simply because using a single tool guarantees better monitoring and, in case of litigation, better evidence. Yes, sometimes we have to talk about things that annoy …
If you do not have your own server or corporate tool to transmit documents, here are two free tools that I use a lot (as you will have understood): wetransfer or Dropbox. You have no excuses anymore!
5. Send even what you judge not interesting
In principle, when you collaborate with a freelancer, you will establish a relationship of trust. In addition, the freelancers in marketing have, normally, a confidentiality clause. If you're not sure, check in the agreement or ask him the question.
Personally, that is my way to work. And I do not reveal any of my clients' secrets with others or with my loved ones. NEVER !
This introduction to tell you to send the document made 5 years ago and you are ashamed. If it's in the "theme" of the project.
Why ? Firstly, because there is no shame to have, we all evolve.
Secondly, because it can help your freelancer to know what you do not want anymore, where you come from, the context of your business …
It can even inspire it by principle of inversion. In summary, let him decide what is worth it or not. And according to my experience, rare is what you can totally throw in the trash.
Dear Business Owner, I hope this article will help you.
And dear freelance colleagues, remote workers or digital nomads, if you have any other advice to give on the subject, write them in the comments!
Ready to start a great collaboration with your freelancer?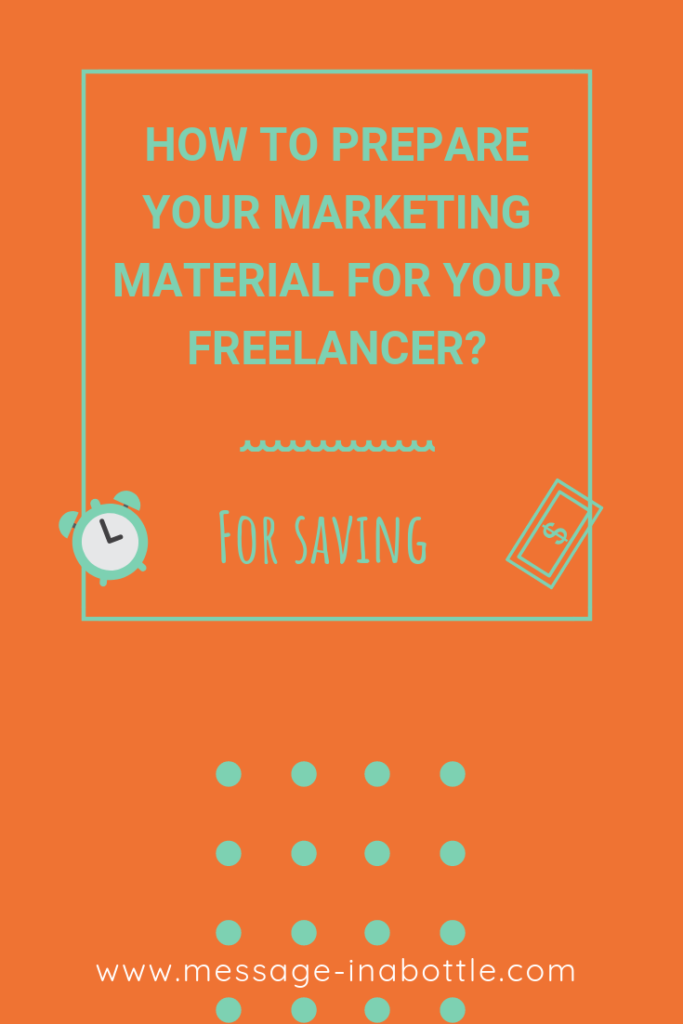 par Delphine Berclaz