Jingle bell! It's almost Christmas🎄🎅! As a business owner, it is often a period of a peak of activity and planning puzzles. You need to run your business, despite outbreaks of influenza and employees who prepare their vacation.
Precisely, who says peak of activity, says also need help to do the extra work. So, let's be crazy! Why not, have a boost of energy for the last stretch of the year? Or blow a wind of novelty by trying techniques or tools to be on top and save time?
Yes, it's a nice goal, but how? HIRE A FREELANCER! I give you 5 reasons to convince you that to hire a freelancer before Christmas, or at any other time of the year, will help you and is a benefit.
1. Freelancer is (almost) always available
As the name implies, freelancers are FREE to organize their time. Therefore, to go on holiday at a time of year that is not the one everyone leaves.
Moreover, if the freelancer chose this way of working, it is often precisely because he wanted to organize himself as he wished. And not, according to the rhythm 9 am-6 pm and obligatory school holidays of the usual world of the business.
Personally, I am almost always available 🤓 and I know that among my freelance colleagues, we are many in this case!
2. Freelancer is a TRUE professional
Often, freelancers already have long experience in their area of ​​expertise and even within the company.
In other words, he is not a student or a trainee who has to explain his role and supervise the slightest of his actions to ensure that the work will be done in an optimal way.
The freelancer is taken care of alone once its mission has been clearly established with you, business owner. A contract is signed and it must be respected.
Most importantly, if you are not satisfied with the services, you can say it loudly and ask that the shot be rectified.
And believe me, the goal of the freelancer is rather that you are happy with his services, because he wants you become a regular customer. Or that you make him the most effective advertising that exists: word of mouth with your colleagues entrepreneurs. So you take little risk.
3. Freelancer has the best value for money
I speak cash to address an important topic for you, entrepreneur: budget 💸. What is the return on investment when hiring a freelancer?
You will have an optimal service (see previous point), excellent skills all at a price unbeatable competition. Since the freelancer practice rates that will always be cheaper than if you hire companies or that if you go through agencies temporary workers who take a good commission.
And all this for the simple reason that you will not have to pay his social security contributions (unemployment insurance, maternity leave, holidays, etc.), to take an example speaking among others.
WARNING ⚠: do not make me say what I did not say: freelancer does not work for free. He has his rates, his own charges and must live like everyone else.
Do not negotiate the price at -50% because it's just there a few weeks. His work is valuable. You will still have to take out a little money.
But remember point 2 and ask him a quote, he will be happy to send you one tailor-made for you!
4. Freelance is a force of proposal
The freelancer comes with his brand new look that he will have in a benevolent way at your company.
Certainly, he will open you to new perspectives. And he will be able to offer you new things through his external perspective and the experience he has through his other clients.
In addition, he will be a source of inspiration and allow you to take a step back, too, with your business or to see it in a new light.
So, you can catch your breath to better attack the marathon of the end of the year with new energy and ideas.
5. Freelancer remains self-employed
The freelancer will not want a job in your company at all costs. He has certainly acquired his status of self-employed hard and therefore, has no desire to become an employee in your company.
However, what he wants is that you are satisfied and that you keep his contact in case you need him again during the year.
Your relationship will not be equivocated by the possible bait of a job or other benefits. And this is a big advantage in the employment relationship, because you can speak frankly and collaborate closely.
In summary
To sum up, a freelancer is flexible, adapts quickly to your environment and provides you with a professional job at a quality-price ratio unbeatable. Your return on investment will undoubtedly be maximum.
Convinced? We work together soon 😃?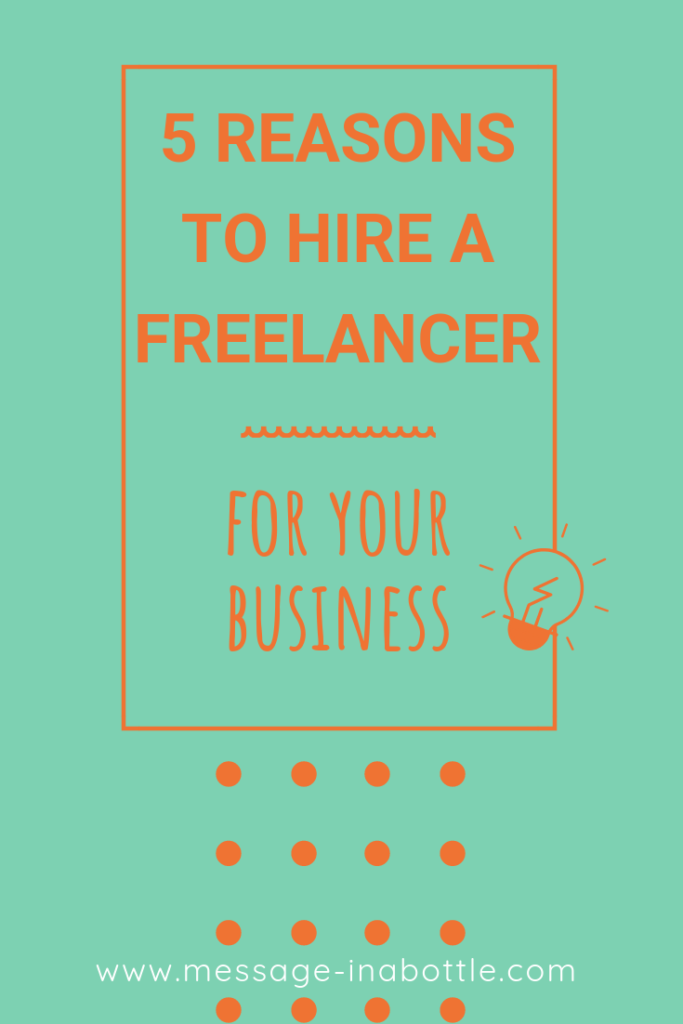 par Delphine Berclaz