One of the reasons that pushed me to become a self-employed and create Message In a Bottle is my expatriation. I have always loved traveling and I tried to do it often, but it was not enough for my taste. It's with great admiration and envy, let's say it frankly, that I followed the evolution of the Digital Nomads.
Today, I do not claim to be a Digital Nomad, I am just an expatriate freelancer who travels from time to time and wants to increase the frequency of her travels ✈. If my activity allows me one day, of course.
Currently, my clients are in Singapore, Switzerland and France. Precisely, when I am writing this article, I am in London.
Another of my wishes is to have customers everywhere. I find it very rewarding.
But how do I handle the distance with my customers? That's what I propose to explain to you today.
Play with time zones
This is the first thing to understand: where are you located, where is your customer and therefore, in what time zone is it in relation to you?
Once everything is clear in your head, it's much easier to manage because you know:
At which time you can communicate directly with him = what are your hours in common?
if you work when he sleeps and if you can send him a result for him to wake up
if you can shorten the deadlines by playing with the time zones = it is also one of the advantages to work with me who am in Asia most of the time, while you are in Europe
when you can have meetings at decent times for you and for him.
In this regard, a little tip : when I send a request for an appointment to one of my client, I am ALWAYS talking in his time zone to him. I do not think he is in charge to calculate the time difference. For him, everything must be easy, as if I worked in the office next door.
Customers first
If I am in Asia and work for European clients, I'm ahead. However, at this moment, the the time zone puts me "late" compared to my Asian customers. "Customers first" is even more true.
In the morning, I get up very early, so I can have a few hours together with my customers in the East in case they want to call me or send me messages.
I always get up early in Asia too, but on the other hand, I can sometimes work late at night to be able to skype with my clients in Europe.
Unless it's an emergency, I try to schedule my meetings so that they happen in the right hours for me. It's just a matter of organization, as I said in the previous point.
WARNING, I will break a myth: at the time of writing this article, I arrived for 1 week in London and I have not visited anything except the supermarket around the corner and the pub in my neighborhood (yes, still!).
The work for my clients comes first, because it's thanks to them that I am in London right now. Relentless logic.
However, I will try to work less on weekends to have the opportunity to visit and enjoy this beautiful city.
Selected tools of contact
Skype, Whatsapp, Facetime, emails, SMS, Messenger … My customers choose. So, I'm sure they will be comfortable talking to me. Once again, as if I were next to them.
Nothing worse than having a conversation stressed by technical problems just because you do not know how an app works or others.
Keep in touch
Before leaving:
The first thing I do when a trip is planned: I inform my clients. I tell them where I will be and explain to them how I will continue to work for them.
In addition, I try to get ahead in my work in case I have a little glitch. But that's worth it whether you're traveling or not.
Once there:
With distance, I am even more vigilant with the regularity of my contacts. I will try to keep my clients informed of the progress of their project as often as possible.
It is also a way to reassure by saying: yes, I am at this place, but I continue to work for you. I'm not on holiday.
Meeting for real
I took the opportunity to be in London to see some of my clients from Europe. So I organized a business trip to say hello 🙋.
Despite all the communication tools available and even if my customers are rather happy to work with me despite the distance, for me, it is important to see them from time to time.
But that's more about human relationship story. I could very well do without it, but given the circumstances, why not do it?
Is the distance still scary?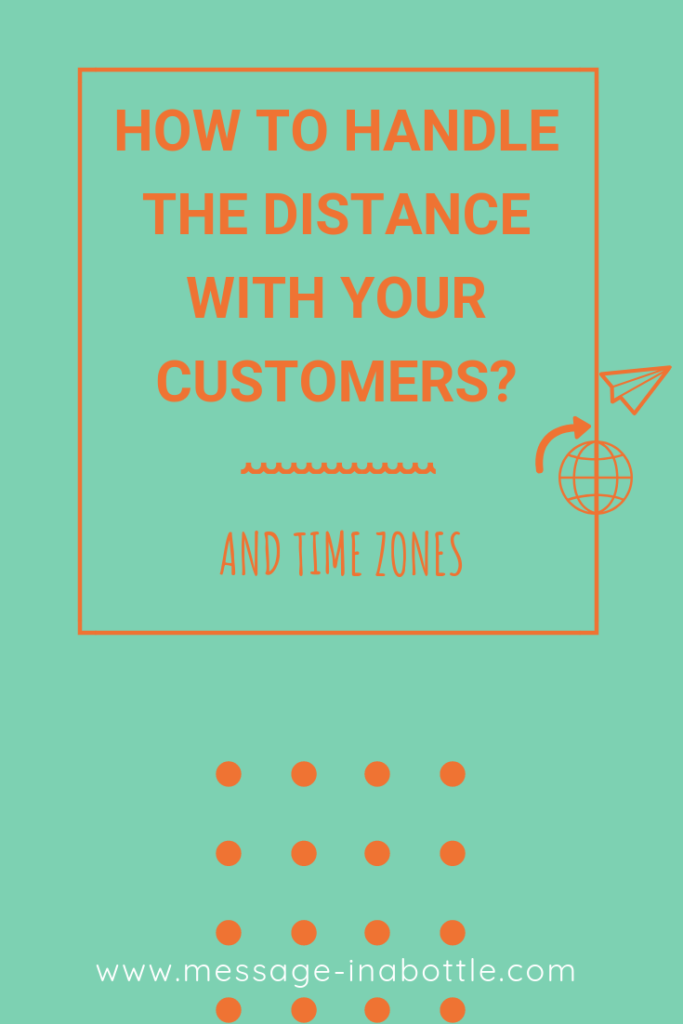 par Delphine Berclaz