Singapore is in the center of Asia. This city has the best airport in the world so frequently, you can have a stop there before arriving at your destination South East Asia.
This city is also a city for business where you never really stop working but where people like eating and drinking coffee ☕. After more than one year living there, I make you discover the best coffee shops in Singapore for working.
Why going to work in a coffee shop?
If you don't have the budget yet to rent an office in a coworking space, you need to find other solutions for not working always from home. Coffee shops are one.
And in Singapore, most coffee shops are workers friendly! We do not come to harass you every 2 minutes to order and most importantly, there is the Holy Grail of the Remote Worker / Freelance / Digital Nomad: wifi 📶! A good one, almost everywhere.
Well, let's go to my favorite places!
Criteria
• Quality of the coffee and of the matcha latte, of course!
• wifi
• atmosphere
• staff
• temperature
• opening hours
Temperature? Yes, because the A/C is sometimes really strong. I give you an advice: take a jacket with you. And check the opening hours because a lot of coffee shops open at midday.
LITTLE INDIA
I start with that one because it's MY neighborhood. This is where I fell in love when I arrived in Singapore and I still love it. I am blessed because I have very good coffee shops right next to my house.
88 Rangoon Rd, #01-03, Singapore 218374
Honestly, this is my FAVORITE! By the way, if you follow me on Instagram, you already know it, because you have already seen many pictures of this place. The managers are lovely, coffees are delicious, the matcha latte is the best I have found in this town and the food is healthy and delicious. The atmosphere is nice, always with a background of music, but not too loud for people to talk to each other or work. Many locals frequent it which makes the atmosphere even more fun.
Old Hen Kitchen
127 Owen Rd, Singapore 218931
This is the little brother who is in the parallel street. If there is no place in the first one, you may find one in Old Hen Kitchen. Same friendly atmosphere, more or less same menu with local beers in more. I do not give more details and I let you discover it by yourself…
88 Rangoon Road #01-04
Yes, you read the address right, it's right next to Old Hen. When I told you I was lucky🍀! Again, the staff is nice, the wifi is good. But above all, it opens at 9am! With its mid-European decor, this place is very bright.
Very good food too!
JALAN BESAR
150 Tyrwhitt Rd, Singapore 207563
For those like me who can not pronounce this name, it is also called CSHH. I hesitated for a long time to put it in the list, because it contradicts all my theory: it has no wifi. DRAMA! But this place is so nice and the pastries are delicious …
But I think that from time to time, we must do certain tasks that do not require wifi. So if you need to focus and avoid receiving all your notifications, this is the place.
Moreover, what really makes it cool is the terrace. And the very local neighborhood.
BUGIS
108 Middle Rd, Singapore 188967
Mellower Coffee is a must-have for Nomad workers. The place is bright and has plenty of places available, since it has two floors. The second is also more quiet. It is ideally located a few meters from MRT Bugis. Coffee is good. To take a little wool against the very cool "climate". This is the disadvantage.
Good to know, a second Mellower is in Tanjong Pagar. Smaller, it is of a different style.
CHINATOWN
200 South Bridge Rd, Singapore 058749
Here is the new one on the list. Open for about 4 months, this small cafe in Chinatown is warm with a very nice smiley and helpful staff. The place is very bright, the coffee and matcha latte are delicious and the food is appetizing and really good!
The wifi works perfectly. It is a real friendly coffee shop fo remote workers!
And if you want to play overtime, they also have happy hours. It is open from 9am and if there are many people, know that there is a large enough room on the first floor. You will certainly find place.
A nice place in the city center, not far from the metro and quiet. Which is good sometimes in Chinatown.
ROBERTSON QUAY / RIVER VALLEY
20 Martin Road 20, #01-02 Seng Kee Building Singapore 239070
A nice cafe with a pretty big terrace. Unfortunately, it overlooks a busy road. If traffic disturbs you, the interior is nice too.
But what is really nice is the staff who is very attentive. Like the previous one, it's real friendly coffee shop for remote workers / digital nomads. Proof of this is that we are often several to work on it. And most importantly, when I had a problem connecting to the wifi, they remain trying until they solve the problem and they did not give up before it worked #superstaff. Just for that reason, this coffee shop deserved its place in this list.
However, the subway is not very close, there are only some buses that stop in the area. And if not, you still have the walk 👟 or the bike 🚴.
If you go through Singapore and go to one of these cafes, come and say hello to me if you see me. Or you can contact me too.
We drink a coffee together?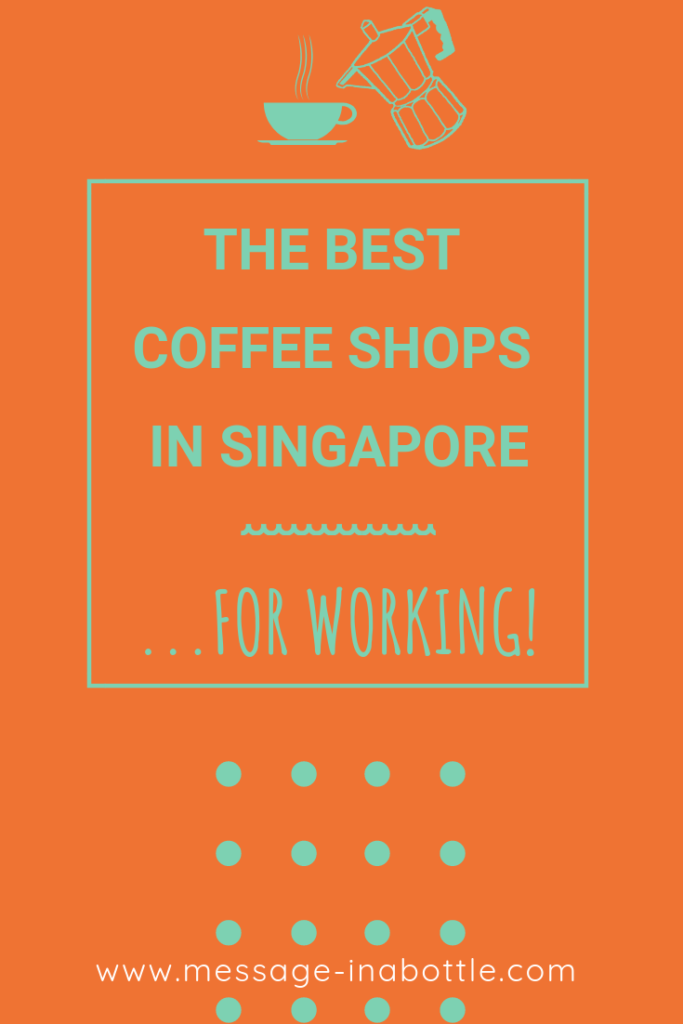 par Delphine Berclaz