French spelling is a real ordeal for both those who are learning this language and for the natives. Many despair of improving and no one is safe from letting a few mistakes go by here and there.
Besides, I have a lot of pressure writing this post😅. I'd rather be impeccable at the risk of discrediting myself.
The tips below are also applicable to any other language. I master four languages including 3 roman languages and, not being born quadrilingual. I had to and still have to go through the apprenticeship box (as you can see here with my not perfect English).
So, I tested and I apply myself these different tips that I share in this action plan to improve your spelling.
Read
One of the best advice of my whole life, I owe it to my French teacher when I was in high school (Jean-Jacques, if you pass by there …): Read!
You will tell me it is a top advice, we had never heard! It's not just about reading, but reading in amazement.
What I mean by reading a word is: you talk to yourself and you are astonished 😲 to see that "astonished" is written with "sh" and that we put "ed" at the end, because it is the past participle of a regular verb.
You follow me ? It's about becoming aware while reading.
As you speak to yourself, I advise you to do it rather when you are alone at the risk of looking like someone who has some small problems to solve … other than spelling.
But obviously that any type of reading helps. So, read everything that's happening to you. However, be careful not to believe everything that is written anyway, because unfortunately, to reduce production costs, many newspapers or publishers make corrections rather light …
Although you can still play to find the mistakes spelling.
Watch TV
Or Netflix! Yes, especially if you put the subtitles in the same language. Once again, stay tuned because there are many mistakes sometimes.
Or you look at something not very high intellectually, so you understand the story and you have time to look for words that you do not know or do not know the spelling.
It works very well when you learn a language! I also have my first Italian vocabulary in part to this endless series The Bold and the Beautiful! Do not laugh, Netflix did not exist at the time…
Listen to music
It is clear that in this case, we first use hearing. But you can learn spelling also by having fun transcribing the lyrics of your favorite song and correcting them later.
OK, there's more fun activity, I grant you, but at least your ears will have a good time for lack of your brain that will be agitated.
Practice
With what has been the torture of some at school: the good old dictation. I can already see your hands shaking and big drops of sweat beading on your forehead while your eyes fill with tears … STOP! Breathe. Relax.
Do not think on this bad experience and try again by asking someone you trust to dictate a text that you like. It could be the soccer encyclopedia or a recipe. The goal is that you put your brain in "attentive" mode.
Once trained, you will surely see the progress.
And do not forget to mark the corrections in color ❌✔️! Not necessarily with the big red pencil guilt, huh, but any color. This will allow your brain to print corrections, especially if you have visual memory.
You can also copy the word with the correct spelling several times.
Refer to a dictionary
Yes, I'm talking about a good old dictionary. Nothing will ever replace verification by this kind of book whether it is in the form of a big dusty book (I know you imagine it like that;)), an app or a website.
Last advice: do not let doubt settle. As soon as you are not 100% sure about the spelling of a word, check it. Gradually, you will record it.
And if you still can not, Message In a Bottle can help you and take care of your corrections. Contact Us!
Do you keep me informed of your progress?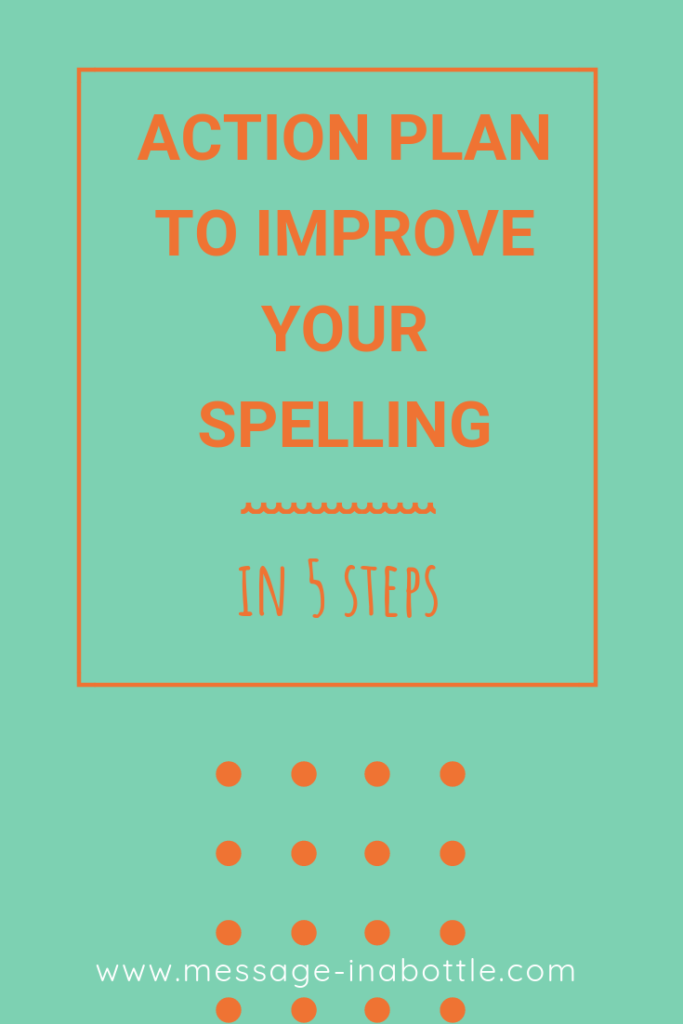 par Delphine Berclaz